Concrete Overlays
Interior self-leveling overlays can be diamond polished to replicate traditional polished concrete floors. The floor is polished to the desired finish and capture the beauty and durability of concrete seen in many high-end retail stores.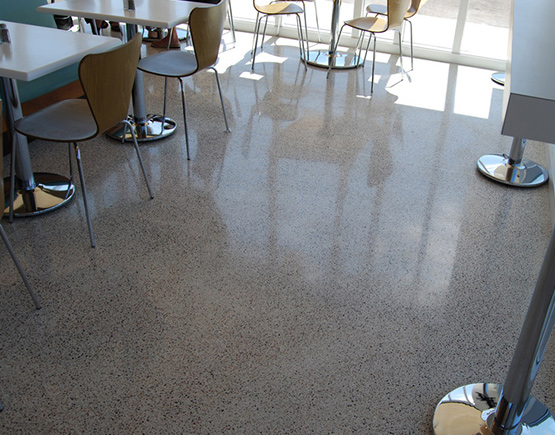 Self-leveling Concrete Overlays
ModernCrete®'s interior overlay systems are generally installed using a self-leveling cementitious material. In most cases, overlayments are used to cover up aesthetic imperfections in an existing floor, however, they can also be a preference of an owner desiring a uniform or terrazzo-like finish. Applications are endless and have included penthouse offices, showroom floors, retail stores, restaurant floors, hotel lobbies, tower condos, and residential homes.
As a leader in the industry, we have installed overlays large and small in each of these building types – even in massive data centers. The most often requested overlay system is a Polished Concrete Overlay designed to replicate polished concrete floors.
Polished Concrete Overlays
Our system utilizes specially designed cementitious materials that provide the benefit of polished concrete without the underlying slab imperfections. The very day after a concrete floor is poured, we begin our physical refining of the floor to a polished finish, avoiding interruption to your project schedule. Because we are refining the floor and utilizing penetrating instead of topical sealers the required maintenance is greatly reduced and the floor never has to be resealed.
Overlays provide an endless array of options. One or more colors can be added from our color charts and integrated directly into the concrete material during the pour. They can also be filled with customized aggregate or decorative material. Because of their versatility, it's the perfect canvas for providing unique and artistic floors. These floors capture the beauty of refined concrete and can be seen in high-end retail stores.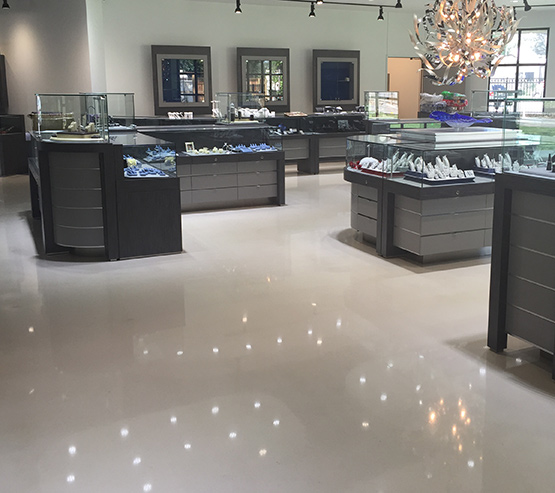 Concrete Overlays by ModernCrete®
Contact our sales department to discuss your project.